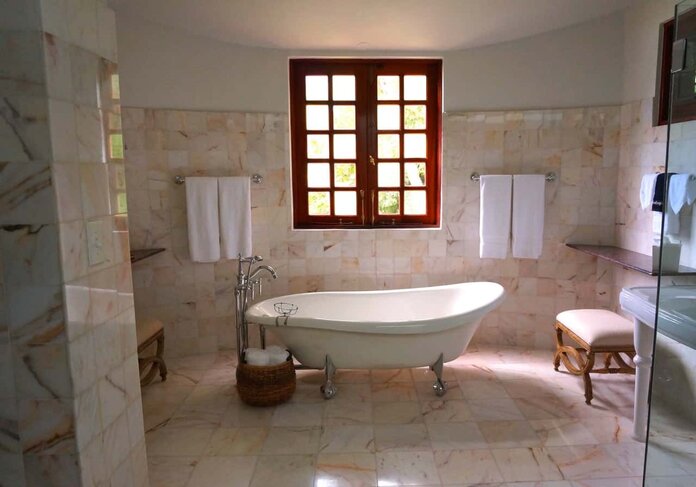 There are two reasons why most homeowners refrain from cleaning bathroom tile grout: 1) lack of patience or time to clean multiple grout lines; and 2) fear of damaging the grout itself. For these fairly valid reasons, we have to put together a cleaning guide that will allow you to get rid of dirt and grime from your bathroom grout lines in a safe, efficient and rather quick manner!
Before we begin, however, let's list down the things you need for an effective bathroom grout cleaning:
Soft-bristle grout brush or toothbrush

Baking soda

Non-chemical all-purpose cleaner

Bucket/basin of water

Clean cloth(s)
Once you've gathered up these items, put on a pair of rubber gloves and follow the simple steps below to match your grout lines to your sparkly clean bathroom!
Step One: Clear the Space and Wipe it
For a thorough cleaning of your grout lines, it's important to get everything out of the way to ensure that you aren't missing any dirt and grime between your bathroom tiles. Next, wipe the surface with a clean cloth to remove any loose dirt or grime so that you don't end up spreading it around.
Step Two: Dampen Grout Lines
Dampen the grout lines by pouring clean water over them one section at a time. Avoid wetting too many sections in one go as they are likely to dry up before you can finish the rest of the cleaning process for the first one.
Step Three: Sprinkle Grout Lines with Baking Soda
The use of baking soda in tile grout cleaning is owed to: 1) its cleaning power; and 2) its powdered form that helps to hold the cleaner in place and penetrate the porous grout. To apply the baking soda to your grout lines more accurately, pour the powder into a bottle with a thin nozzle (using a funnel) and subsequently sprinkle it between your bathroom tiles. Use your fingers to push the baking soda between your bathroom tiles for better coverage of the grout lines. 
NOTE: For vertical grout lines, make a runny paste with the cleaner and baking soda and gently scrub it into the grout lines before rinsing it off.
Step Four: Apply the Cleaner
Use your chosen, non-toxic cleaner to spray the baking soda so that it creates a paste. Gently dab the paste along the grout line with your fingers before leaving it to stand for a minute or two. In this time, the paste will help the cleaning product penetrate the grout for a deeper and more efficient clean.
NOTE: Avoid using harsh products like bleach, vinegar and ammonia as they can damage grout.
Step Five: Brush Away Dirt
Using an old toothbrush with soft bristles or a delicate tile grout brush, gently scrub between your bathroom tiles to remove dirt and grime from the surface and within the pores of the grout. Our friends from Edmonton Cleaning Services says "Avoid using too much pressure as you may end up damaging the grout." As you go about cleaning, be sure to rinse the bristles every now and then to avoid redistributing dirt to other areas of your bathroom grout. Fill up some water in a bucket or basin for this and swish the brush around to remove dirt. Replace the water as and when needed.
Step Six: Rinse Off the Cleaner
Splash your bathroom grout with mugs of water as opposed to spraying them; excess water pressure can lead to chipping or crumbling of the grout. Squeegee or wipe the surface to dry it and inspect the grout lines for any missed spots. You may have to wait until the tile grout has dried completely for a thorough inspection. Also look out for any chips or holes as these spaces tend to get filled with grime and dirt. If you do find any minor damage, it's fairly easy to repair tile grout yourself so there's no need to spend money on a professional.
Tip to Keep Bathroom Tile Grout Clean:
Brush bathroom tiles and grout (gently and without a cleaner) after you shower or every alternate day to maintain cleanliness

Dry bathroom surfaces as quickly as possible; increase ventilation and use exhaust fans for this

Spot clean dirty grout immediately as opposed to waiting till it spreads further and requires a deep clean

Apply a stain resistant grout sealer
Latest posts by Karen Saunders
(see all)